CLASS SCHEDULE
Timetable for all Gracie Barra programs at GB Staple Hill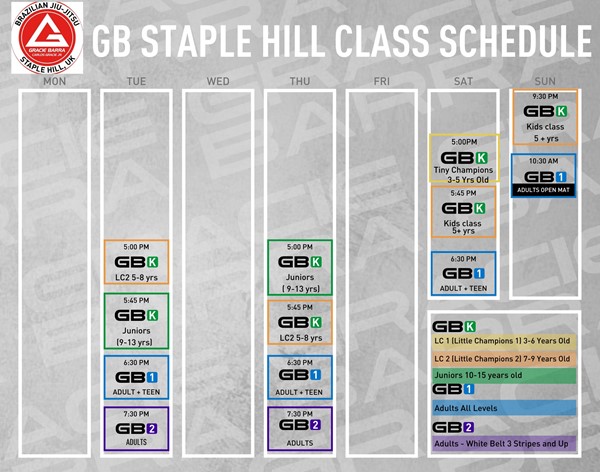 Pre-requisites
GB1 – Fundamental Class – all student grades and belt levels
GB2 – Advanced Classes – minimum 3 stripes on white belt
GB3 – Black Belt Program – Blue belts and above
---
Mondays     
Future Champions (5-9yrs) Kids Program 5.15pm – 6.15pm – (Mat 1 Geeza)
Future Champions (10-15yrs) Kids Program 5.15pm – 6.15pm – (Mat 2 Joanna)
GB3 – Gracie Barra Black Belt Program 6.30pm – 7.30pmpm (Geeza)
GB1 – Gracie Barra BJJ Fundamentals Class 7.30pm – 8.30pm (Geeza)
GB2 – Gracie Barra Advanced BJJ – Rolling – 8.30pm onwards
---
Tuesdays
All Levels Lunchtime class 12.30pm to 1.30pm (Piotr Hipsz and Pat Tate)
GB1 – Gracie Barra BJJ Fundamentals Class 7.00pm – 8.00pm (Nick Jordan)
GB2 – Advanced BJJ class 8.00 – 8.30pm (Nick Jordan)
---
Wednesdays 
All Levels breakfast class 7am to 8 am (John Bishop and Piotr)
Future Champions All Ages Kids Program 5.15pm – 6.15pm –  (Mat 1 Joanna)
GB1 – Gracie Barra BJJ Fundamental Techniques 6.30pm – 7.30pm (Damien Mat 1)
GB3 – Gracie Barra Black Belt Program 6.30pm – 7.30pm (Geeza Mat 2)
---
Thursdays 
GB1 – Gracie Barra BJJ Fundamentals Class 7.00pm – 8.00pm (Jamie Horsman)
GB2 – Advanced BJJ class 8.00 – 8.30pm (Jamie Horsman)
---
Fridays
Future Champions (5-9yrs) Kids Program 5.15pm – 6.15pm – (Mat 1 Geeza)
Future Champions (10-15yrs) Kids Program 5.15pm – 6.15pm –  (Mat 2 Joanna)
GB3 – Gracie Barra Black Belt Program 6.30pm – 7.30pm (Geeza)
Gracie Barra No Gi Techniques 7.30pm – 9.00pm (Geeza) This class is for all student levels.
---
Saturdays
MMA – 9.00am to 10.00am (Geeza)
Gi Techniques and Drills  – 10.00am – 10.45am (Geeza)
Live training with Gi  – 10.45am – 11.30am (Geeza)
Tiny Tots (3-5 yrs) – 11.30am – 12.15pm (with 15 mins of play time after class.)
---
Sundays
Study Hall 3pm – 5.00pm (Geeza)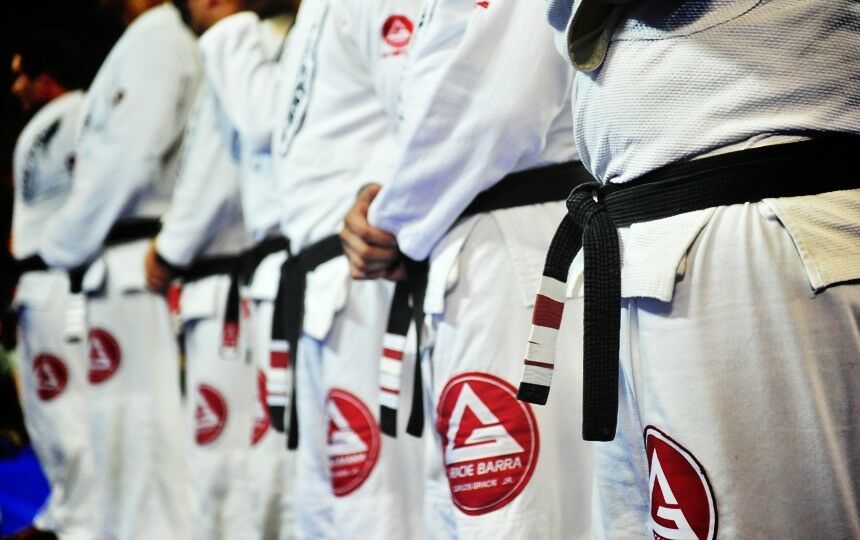 All BJJ classes are with Gracie Barra gi.
All no-gi/MMA classes are with Gracie Barra shorts and rash-guard